If you have have a Westsail, and need repair or replacement parts or a survey or information, here is a single source for all of it.
Bud Taplin was the first general manager of Westsail Corporation, and developed the manufacturing methods and put into production the original Westsail 32 in 1972, and built the tooling for the Westsail 42. In 1974 he left Westsail to start his own boat-building company, Worldcruiser, specializing in custom construction of sailboats. Since 1974 at Worldcruiser, he has designed and built many W-32's, W-42's and W-43's, all with different interior and exterior layouts.
With Westsail Corporation no longer in existence, and yet with almost 1100 boats in use, the owners have needed a single source for required repair parts, advice and consultation on repairs or the completion of kits. This service is being capably fulfilled by Worldcruiser. Owners can call or write to get quick, exact answers on all questions regarding repairs on Westsails; quotes on the cost of the materials necessary to repair or upgrade their boats; and then can order the needed parts directly from Worldcruiser. Parts have been shipped all over the world, and calls have come by radiotelephone and ham patches. Because of years of boatbuilding experience, and construction of hundreds of Westsails, Bud knows and understands your needs in the event of emergency repairs.
Worldcruiser has copies of most of the original Westsail drawings and specifications, construction manuals, labor standards, and patterns on some of the wood parts; as well as sources of all the specially built metal parts made for the Westsails.
If you are planning to buy or sell a Westsail, or prepare for an ocean passage, Bud is available to survey your boat and advise on the condition and equipment needed. This unique service is available to all Westsail owners by just picking up the phone and calling.
If your boat has sustained major damage, Bud will come out and survey the boat, prepare an estimate of the repair costs for insurance purposes, and then offer to supply all of the materials and advice needed to restore the boat to its original condition.
Because of the high cost of boat repair labor today, we have devised the following unique service for Westsail owners. If you are planning any repairs or replacement of faulty, corroded or worn parts, Worldcruiser will supply you with a complete package of all of the needed parts, including fasteners, clamps, and the multitude of other parts that normally require numerous trips to the marine supply store in order to complete a job. Bud will also supply step by step instructions on how to perform the repair job. These are the same type of instructions passed onto the craftsmen that have worked for us over the years in constructing hundreds of sailboats. Instructions will also include sketches and drawings where necessary, critical dimensions, and procedures to follow. Of course, if questions arise during the completion of the work, a quick phone call can usually clear up the mysteries of boatbuilding.
These past few years have been a good ones for Worldcruiser, as the business has increased from the previous years. The list of owners has gotten more extensive, and has been updated, especially as new owners contact Worldcruiser for parts and information on boats they have recently purchased and are trying to upgrade, or to meet the recommendations of a survey. We have also done an increased business in surveys as owners have changed insurance companies, or reevaluated the amount of insurance they carry, and the insurance companies require a current survey. There have also been a number of devastating hurricanes and storms, and we have been contacted by the owners, and the repair yards, to supply a quote and parts necessary to effect repairs on the damaged boats.
The number of Owners Rendezvous has also increased, and we make it a point to go to all of them possible. Speaking of a rendezvous, if you are considering having one in your area, contact Bud and we will send you a list of owners in your vicinity to contact, and also be sure to contact Pat Tilson of the Westsail Owners Association for advice and help in organizing it.
In this brochure is a sampling of Westsail replacement parts available. Of course, Worldcruiser can obtain any parts or pieces of equipment for your Westsail that you may need, and can offer advice on their installation. Most of the information applies to the Westsail 32, as it has been the most popular model, and has needed the majority of parts. However, many of the same parts are used on the other Westsail models, and of course parts and information are available on any of the models.

CONTACTING WORLDCRUISER
I moved my office in 1994, and am sharing space with another marine related business in Newport Beach. I also have an office in my home in Huntington Beach. The answering machine is on all of the time, and the messages are recalled every day if I am not there. If you want to send a fax, use the number 949-631-0313. Be sure to note it is for Worldcruiser, as the machine is one that is shared with another company.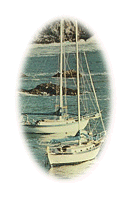 WESTSAIL OWNERS ASSOCIATION
The Westsail Owners Association is still active, and headquartered in Tampa, FL. Almost 1100 Westsails were built in 10 years of operation, and a very close camaraderie has developed between most of the owners. Therefore, it is only natural the Association should continue. The owners get together for rendezvous, advice and help, exchange of slips, etc. A newsletter is published bi-monthly, full of tips, questions, cruising stories, good spots, gossip, etc. Pat Tilson head up the organization and publishes the newsletter. Pat Tilson has made up a good selection of T-shirts, hats, aprons, bags, burgees, etc., all with various Westsail logos on them, and offers them for sale at very reasonable prices. They will try to send an assortment of these to every rendezvous to make them readily available to any owner. You can also contact them directly, and they will mail them to you. Contact the Westsail Owners Association, c/o Pat Tilson, 108-A S. Melville Ave., Tampa, FL 33606 - OR Email to: email: pat@westsail.org for membership information. The phone number is: 813-250-3757. Bud Taplin has served as a consultant to the association since its start. The Westsail Owners Association can also be reached on the Internet at http://www.westsail.org

INFORMATION SHEETS AVAILABLE
We have prepared an extensive number of individual information sheets describing in detail the parts and fixes available from Worldcruiser, and listing the costs of all of the parts. Many also relate to preventative maintenance and upgrades available to the boats. Because of the limited space in this brochure, we are only able to include a brief description of each one here.
Following is a list of most of them, but as time goes by new ones are being written as owners ask for additional items. Any of these are available to you by just contacting Worldcruiser.

WESTSAIL SERVICE MANUAL
If you want the complete set of information sheets from Worldcruiser, please send for your copy of the master catalog of all of the available information sheets. It can be purchased from Worldcruiser for the sum of $20.00. Call to place your order for the WESTSAIL SERVICE MANUAL.
Only a brief and shortened description of the information contained in each individual information topic is included in this brochure.

WESTSAIL SERVICE MANUAL TOPICS
D. HULL AND DECK, GELCOAT, BOTTOM

K. COPIES OF MAGAZINE ARTICLES



[Back To Home Port]
email: btaplin@westsail